Source: magicbricks.com December 18, 2013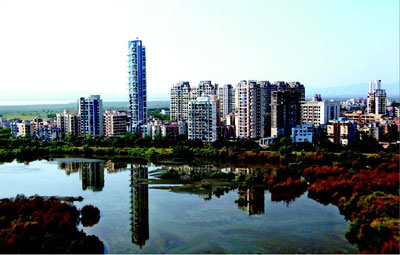 Mumbai: Make any mention of upcoming nodes in Navi Mumbai, invariably the Ulwe - Panvel belt gets highlighted as future destinations because of the hype generated around the proposed Navi Mumbai International Airport in the vicinity.
More often than not, prospective buyers miss out on Taloja - Panchanand, a location just behind Kharghar. It has not come to the notice of many and hence, the prices are still below the other highlighted nodes of Navi Mumbai.
Infact, a good number of buyers thronging Navi Mumbai for their property requirements are not even aware of the existence of this node as a good low cost investment /end use option.
I am elaborating below the reason why I recommend it as a good buy both from end use as well as investment perspective for future appreciation.
Taloja - Panchanand is broadly divided into two phases - Phase I and Phase II, divided by Taloja River bisecting the node.
Taloja-Panchanand (Phase I and Phase II) has got good future prospects because of the following reasons:
1. Navi Mumbai Metro Rail starts from CBD Belapur, passes through Kharghar and culminates at Taloja - Panchanand. Hence, direct connectivity to the local train stations like Kharghar and CBD Belapur via Metro feeder route. As per the current pace and progress of work, Metro Rail is likely to be functional by the end of 2015.
2. Taloja itself is a functional railway station on Vasai - Diva - Panvel Railway line. Currently, three shuttle trains ply on this route to and fro Vasai - Diva - Panvel. Since railway stations on this route already exist, it is inevitable that this route be converted and connected to Mumbai Suburban local route.
3. Located right on National Highway 4, the location has direct road connectivity to the Sion - Panvel Highway, Panvel and Dombivli-Kalyan.
4. CIDCO node - hence enjoying the same planned infrastructure in terms of roads, drainage, open spaces, gardens, etc as other CIDCO nodes.
5. Legally enjoying the same status as other CIDCO node, that is, all the projects have CIDCO as the nodal planning/sanctioning authority. There is no involvement of village gram Panchayat.
6. Adjacent to Sectors 34-35 of Kharghar, which already command a rate of Rs 5,000-7,500 per sq ft. Due to this proximity, all the amenities of Kharghar like Central Park, ISKCON temple, Golf Course etc situated at Kharghar become easily accessible from Taloja - Panchanand.
The above factors, especially Metro Rail connectivity, would act as catalysts for the prices of this location in the coming couple of years.
Coming to the brass tacks, what does Taloja - Panchanand offer in terms of projects and prices vis-à-vis developed location like Kharghar and developing location like Ulwe?
The below stated synopsis would underline the advantages mentioned above.
To conclude, Taloja-Panchanand is an under-valued proposition at today's prices. The underlying potential of the location has still not unlocked. As and when the Metro work approaches culmination, the prices are more likely to take an upward route.
Unlike many nodes of Navi Mumbai, which have become "good bye" destinations due to sky high prices, Taloja-Panchanand is still "good buy" destination.
Ketan Tanna, owner, Twin City Realtors
Ketan Tanna is a partner at Real Estate Consultancy firm TWINCITY REALTORS. He has experience and in depth knowledge about the Mumbai Real estate market, with particular focus on Navi Mumbai.
The views expressed in this article are the author's own.