Source: Times Of India December 11, 2008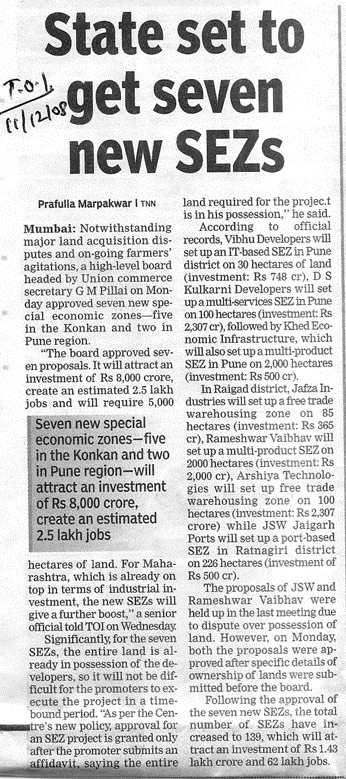 Prafulla Marpakwar|TNN
Mumbai: Notwithstanding major land acquissition disputes and on-going farmers' agitations, a high-level board headed by Union commerce secretarty G M Pillai on Monday approved seven new special economic zones - five in the Konkan and two in Pune region.
"The board approved seven proposals. It will attract an investment of Rs. 8,000 crore, create an estimated 2.5 lakh jobs and will require 5,000 hectares of land. For Maharashtra, which is already on top in terms of industrial investment, the new SEZs will give a further boost," a senior official told TOI on wednesday.
Signnificantly, for the seven SEZs, the entire land is already in possession of the developers, so it will not be difficult for the promoters to execute the project in a time bound period. "As per the Centre's new policy, approval for an SEZ project is granted only after the promoter submits an affidavit, saying the entire land required for the project is in his possession," he said.
According to official records, Vibhu Developers will set up an IT-based SEZ in Pune district on 30 hectares of land (investment: Rs. 748 cr), D S Kulkarni DEvelopers will set up a multi-services SEZ in Pune on 100 hectares (investment:Rs. 2307 cr), followed by Khed Economic Infrastructure, which will also set up a multi-product SEZ in Pune on 2,000 hectares (investment:Rs.500 cr).
In Raigad district, Jafza Industries will set up a free trade warehousing zone on 85 hectares (investment: Rs. 365 cr), Ramrshwar Vaibhav will set up a multi-product SEZ on 2000 hectares (investment: Rs 2,000 cr), Arshiya Technologies will set up free trade warehousing zone on 100 hectares (investment: Rs. 2,307 crore) while JSW Jaigarh Ports will set up a port-based SEZ in Ratnagiri district on 226 hectares (investment of Rs. 500 cr).
The proposals of JSW and Rameshwar Vaibhav were held up in the last meeting due to dispute over possession of land. However, on Monday, both the proposals were approved after specific details of ownership of lands were submitted before the board.
Following the approval of the seven new SEZs, the total number of SEZs have increased to 139, which will attract and investment of Rs. 1.43 lakh crore and 62 lakh jobs.