Source: Deccan Herald May 26, 2011
SPOTLIGHT ON LOCALITIES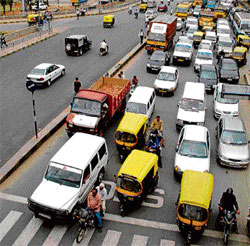 Hennur Road, Mysore Road and Hosur Road are three key roads when it comes to connectivity. The localities that are in the vicinity of these roads are seeing a lot of growth.Ruth Dsouza Prabhu offers an insight into the infrastructure facilities, land rates and growth prospects of these focus areas.
One often wonders if Bangalore has run out of space, and the City has reached a saturation point. However, that's far from the truth. You only have to look at the prime locations in Bangalore that are seeing a great amount of growth. Take for instance, Hennur Road, Hosur Road and Mysore Road, and the localities in and around these key roads that are experiencing growth.
Hennur Road – Brings the airport closer
In terms of expanse, Hennur Road begins right at the Lingarajpuram entrance and stretches all the way to Bagalur Cross. It encompasses the areas surrounding Outer Ring Road.
Also, the Marathahalli flyover that leads to Hebbal bisects Hennur Road and all areas here that fall within the five-km radius such as Kalyan nagar, Banaswadi, all of which form a part of Hennur Road.
Talking about the locality, Bijay Aggarwal, Chairman and Managing Director, Salarpuria Sattva Group explains, "This stretch was once believed to be solely for lower and mid-level home buyers. But today, the change is such that even high-end builders would love to see their brand here. The USP of the area is its peace and tranquility. The area constituted largely of grape gardens and orchards before residential settlements began here. Though few in number, the green pockets are still substantial enough to give this area a unique look."
Irshad Ahmed, President, Bangalore Realtors' Association of India points out that the proximity of Hennur Road to the airport as well as the widening of roads for greater connectivity are huge pluses.
"In the near future, it will provide a great deal of opportunity in terms of residential as well as commercial development," he adds. Several roads in the area are being converted to 100-ft ones and commuting has become easier. With work on the Ring Road underpass in progress, travelling from Hosur to the airport too will become significantly easier. The broad plan should be to have a flyover or an underpass on every road that bisects the Ring Road. This will make the stretch signal-free.
As far as infrastructure goes, the water table in the area is fantastic thanks to its green history. With the commissioning of Cauvery Phase II in this area, all its needs will be taken care of. Land prices in the region stand between 3,000 and Rs 5,000 per sq. ft. in the vicinity of the Ring Road.
A little away you can expect to pay in the range of Rs 2,000 and Rs 2,500 per sq. ft. For the areas between Hennur and Bagalur, you can expect to look at prices beginning at Rs 1,500 per sq. ft.
Hosur Road – Impetus from IT sector
This is a massive stretch that begins at the end of Residency Road and stretches through Koramangala, Silk Board and goes on all the way up to Attibele. Says Irshad, "The scope for this area is largely based on the impetus provided by the IT crowd. Its connectivity to Electronics City and the like make it a great place for investment. Also the fact that it brings Tamil Nadu closer via Hosur makes it a great investment spot. Further the development of a small airport here will hold good for it."
Bijay Aggarwal evaluates various segments of Hosur Road. He says, "The Koramangala area is completely saturated and has no scope for development.
Since even smaller establishments generate revenue, it is not possible to tear them down for improved construction or renovation. Parts of Bommasandra and Bommanahalli are still available for development. Old industrial units are now being made available for acquisition and this provides a gold mine for real estate. These will be split between residential and commercial space. The same can be said of BTM Layout. As far as Electronics City goes, future development will be in the Chandapur-Anekal stretch. This will be largely in the affordable mid-range segment. Attibele is gradually developing in to the affordable housing hub. It is close to becoming self sufficient and has large parcels of land being made available."
Finding a project you like closer to the City is not really a possibility. Areas surrounding Koramangala are priced in the range of Rs 5,000 to Rs 6,000 per sq ft and sometimes even more. Silk Board and the areas around it command in the range of Rs 2,000 to Rs 3,000 per sq. ft. for land and between Rs 3,000 and Rs 4,500 per sq. ft. for apartments.
Villas here are priced in the Rs four-five crore range. No matter how further interior you go, the least you can expect to pay is Rs 1,500 per sq. ft. for land.
Mysore Road – Bringing Bangalore closer
The stretch begins at the end of Chamarajpet and goes right up to Nayanadanahalli. On one side lie Rajarajeshwarinagar as well as Kengeri and its satellite town. Nishant Ranka, Director, DRA Projects elaborates on the scope of the area saying, "Improved connectivity with the widening of existing roads underway, completion of NICE, planned flyovers until Nayandanahalli and also the Metro Phase-II until Kengeri, will drive residential and consequently commercial demand. BDA 6th stage, which has been completed and sold out will soon get BWSSB connectivity as well. This will bring thousands of families into the area in two years. This critical mass of population will create huge demand for commercial / industrial and residential spaces. This is one of the few areas where quality apartments from reputable developers are still available for Rs 2,200 - 2,500 per sq. ft. and hence presents a good scope for appreciation of any investment."
Looking at the areas that make up Mysore Road, the Chamarajpet to Nayandanahalli no longer presents any opportunity for development. Any scope for development arises once road widening is completed in the area. Commercial development here has taken place on the outer fringes with residential development in the interiors. With Metro Reach 1 coming up, connectivity will be a plus point here and Indiranagar will come closer. Land prices will range from Rs 2,000 to Rs 3,000 and perhaps a little more.
Rajarajeshwarinagar is a well-planned area and the same follows for areas like Uttarahalli Main Road and Kengeri. All the roads here are 60-ft ones. It also has a great water belt. There is now an emphasis on mix-used development projects here. Land prices are close to Rs 3,000 per sq. ft. and residential apartments are priced at Rs 2,600 to Rs 2,800 per sq. ft. Kengeri is well developed as a satellite town. Land rates in Kengeri vary according to sectors you look at. Moderately priced areas will be in the Rs 2,000 per sq. ft.