Source: The Times of India Mumbai June 28, 2014
VILLA IN KARJAT FOR RS 40 LAKHS
Karjat, on the outskirts of Mumbai can be looked at as a future destination for homebuyers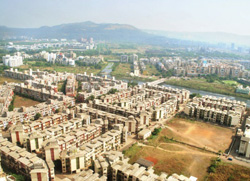 Owning a second home in a city like Mumbai seems a distant dream because of high property prices. However, Karjat offers an opportunity to homebuyers to possess a property where they can relax with their family and relatives. The buyers can enjoy a leisure weekend at prices as low as Rs 2,700 per sq ft.
The area offers villas at a starting price of Rs 40 lakhs which includes amenities such as a swimming pool, a play ground and a gymnasium.
Such projects are available in localities like Neral, Ware Village and Kashle Kothimbe Road. The units available are of 2, 3 and 4BHK configuration with a built-up area of 2000-3000 sq ft. The price range of these housing options ranges within Rs 40-55 lakhs, depending upon the built-up area and the amenities. i "Most of the active developers in the market construct bungalows and offer amen b ities as per the individual rei quirements of the buyer," p says Amit Upadhyay, market d ing manager, PNJ Builders.
Each villa is provided with open green spaces and a boundary wall. Other amenities such as a swimming pool, kids play area and indoor and outdoor games are available in the township for common use. Developers also provide paved internal roadways and service lanes along with ready units. "Almost 500 sq ft of area is kept reserved for garden and open spaces. Rest of the land is used for construction of built-up area of 2000 sq ft plot on which a 2 or 3-BHK structure is built," informs Swapnali Kamble, marketing head, Dave Buildmart. Other than affordable capital values, convenient rail connectivity to Pune, Panvel and Lonavala, are the added advantages to the location.
Homebuyers, desiring to spend short weekends, can easily commute without any hassle. Karjat itself is a tourist spot with ample scenic beauty. "Karjat is a tourist destination in the vicinity of Matheran and enclosed by Bhimashankar Hills. It is a preferred location for film shooting as well," informs Danish Bhagat, director, New Sky Infra Marketing.
Scope of appreciation Since Karjat is also a part of the Delhi-Mumbai Industrial Corridor (DMIC), the infrastructural expansion is expected here in the next 2-3 years. With industrialisation planned in the area, Karjat is seen as a profitable investment zone of Navi Mumbai.
"The development plan of Karjat is vibrant as compared to Navi Mumbai because of the upcoming Japanese industries which are expected to boost the real estate demand in terms of rental housing," adds Bhagat.
Karjat is emerging as an affordable alternative to Panvel, Kharghar and Airoli, where the capital values have gone beyond Rs 7,000 per sq ft.
MagicBricks.com Bureau QUICK BYTE MOST OF THE ACTIVE DEVELOPERS IN THE MARKET CONSTRUCT BUNGALOWS AND OFFER AMENITIES AS PER THE INDIVIDUAL REQUIREMENTS OF THE BUYER.