Source: Commonfloor August 1, 2013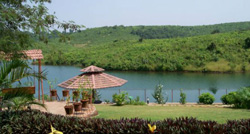 Pune-Karjat is an attractive and preferred tourist spot located on the outskirts of Mumbai. It is situated in the Konkan coastal plains and lies on the banks of Ulhas River.
It was once a village which is now witnessing infrastructure developments, amenities and tourist facilities. The area is being developed tremendously by MMRDA (Mumbai Metro Region Mumbai Development Authority) and has been declared a Green residential zone.
Many people residing in Mumbai, Pune or Thane have their second home or farm house in this pollution free locality.
Location Advantages
Kajrat has gained importance due to its proximity to Airport, Railway Station and developments of special economic zones (SEZ) like Reliance and Navi Mumbai. The nearest Airport is the Mumbai Airport and the Karjat railway station is connected by local trains to Chhatrapati Shivaji Terminus Mumbai, Khopoli and Panvel.
It is a unique place which is accessible by numerous highways such as Pune highway, national highways, Nasik Highway, Goa Highway, Mumbai-Pune expressway and state highways. It is also well connected to many industries, Raigad District and Kharghar. Few roads and bridges are under construction to reduce travel time. It is 46 km and 49 km from Chembur and Sion respectively.
Public Transport
Nearest bus terminal is in Bhisegaon which gives connectivity to other cities in and around state via state run buses. Since Karjat is a tourist place, cabs, taxis etc are also easily available.
Social Infrastructure
Karjat has become an educational hub due to its location advantages. Some educational institutes include Konkan Gyanpeeth College of Engineering, Asian Institute of Communication and Research AICAR Business School, Dhirubhai Ambani School Lodhivali, Engineering Institute of Bhivpuri, Christian Bible College, Vishwanagar, HOC Pillai International School, Agricultural College, L & T Construction Skills Training Institute, Medicinal Plants Institute and many more.
Some nearby resorts are River Touch Resorts, Prakruti Farms, Dr. Modi's Resort, Rivergate Resort, Satya Resort , Piccadilly Country Club and Resort, Pinewood Resort etc.
A major attraction of the place is the popular ND Studio for film shootings. Other Hollywood and Bollywood companies are also planning to set up mega studios and production facilities here. Greg Norman's 27-36 Hole Super Championship Golf Course is also located here.
A part of area in Karjat-Khopoli belt is being developed as a recreation hub by MMRDA. It will include a Twenty20 league ground, a Paint Ball Park, Theme Parks, Amusement Park, Golf Course and other recreation facilities.
Real Estate
Karjat is a perfect destination for second home and weekend home buyers. One can buy a dream home near Mumbai at affordable rates.
Developers offer 1, 2 and 3 BHK independent bungalows and villas. Others offer apartments and plots. Some of the latest residential projects in Karjat are Piccadilly Green City, Brooks Ville Country Homes, Rohella Sun Valley Residency, Shree Mahalaxmi Nagar, Tanaji Malusare City, Tulsi Aangan , Mateshwari Hills Park, Mateshwari Regency , Expat Sparsh, OSB Amchee etc
Price Trend
Reasonable price and good connectivity is pushing demand in the area. The per sq ft price in first quarter of 2013 was around Rs 2400. It then appreciated to Rs 2600 in the April to June quarter of 2013.
The area not only caters need of an individual who dream of a low cost flat but also many big companies are considering Karjat as a viable option. The rising demand of homes in Karjat will push the property prices in coming quarters.