About Karjat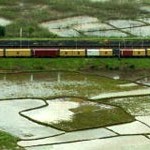 Located near the basin of Ulhas River, Karjat is a popular weekend holiday destination from Mumbai. Scenic natural vistas, mountains, forts and ancient rock-cut cave temples make Karjat, about 68 km from Mumbai, popular with trekkers.
Karjat has an average elevation of about 636 ft. Karjat is serene and unspoilt, which makes it very popular with tourists.
Karjat has the distinction of having the largest number of farm houses. Its climate and scenic splendour make Karjat a popular weekend destination especially for people from Mumbai.
Karjat is also popular for adventure sports like trekking, waterfall climbing, rappelling and river rafting in the Ulhas River. Morbe Dam, about 10 km west, is a good place for boating and the perimeter of the dam is popular for having a leisurely picnic. Some scenes of the Oscar winning Movie, Slumdog Millionaire have been shot in Karjat.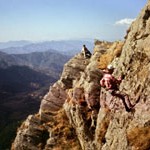 Karjat is a very famous trekking destination in Maharashtra with many trails that range from moderate difficulty to extremely demanding trails. Three trekking trails are considered to be the most popular among adventure seekers – Chanderi Fort Trek, Matheran Trek via Rambagh Point and Peth Fort Trek.
Monsoon season is favourite with for tourists seeking adventure. White water rafting is done on the upper sections of the Ulhas River. The best place for the sport starts from Kondana village, about 15 km away from Karjat. The months between July and September are the best time to go white water rafting here.
Karjat is a good place to have a picnic with family and friends or go hiking and mountain climbing too. The must-see places in Karjat are Ulhas Valley, Bhor Ghat, Kondana Caves and Peth Fort.
Excavated in the first century BC, the group of 16 Buddhist caves was used by monks for their stay during the monsoon months. The caves consist of sculptures, chaitya, vihara and stupa. Kondana is among the several rock-cut Buddhist temples found in Maharashtra.
Best time to visit Karjat is during the monsoon when the beauty of the place increases multi-fold.


Where to Stay:
There are many budget and mid-range options for accommodation near the railway station and bus stand.


Where to Eat:
There is a wide variety of options when it comes to eateries in Karjat ranging from small stalls that sell the local favourite vada pav to lavish restaurants that serve continental dishes. The market area near the railway station has several restaurants.


Best time to visit Karjat:
The best time to visit Karjat is from June to October.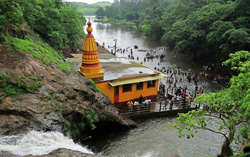 Places to Visit in Karjat
Kondeshwar temple: Kondeshwar temple dedicated to Lord Shiva is constructed centuries ago. THis temple is popular for its charming personality due to the perfect architecture among the tourists. Many tourists visit this temple to admire the architectural beauty of the temple.
Opening hours of Kondeshwar temple: January to December: Open all days 07:00 am to 06:00 pm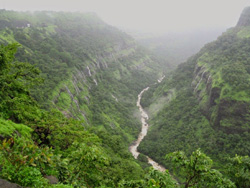 Ulhas Valley: Ulhas valley is a popular tourist spot in Karjat. The valley offers a scenic and pleasant view to tourists making them visit this place again. One can enjoy the greenery and the adjacent lake view with a cup of tea. The place is worth visiting during summers when the greenery is at its peak and the lake view makes Ulhas valley a delight for tourists.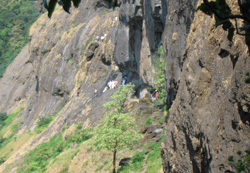 Bahiri Cave: The Bahiri cave in Karjat is famous for its trekking adventures. The cave located at an height of around 600m above the sea level is visited by a lot of hindu devotees during occasions. The wide stretches of the cave offers a challenge to the adventure lovers.
Opening hours of Bahiri Cave: January to December: Open all days 06:00 am to 07:00 pm